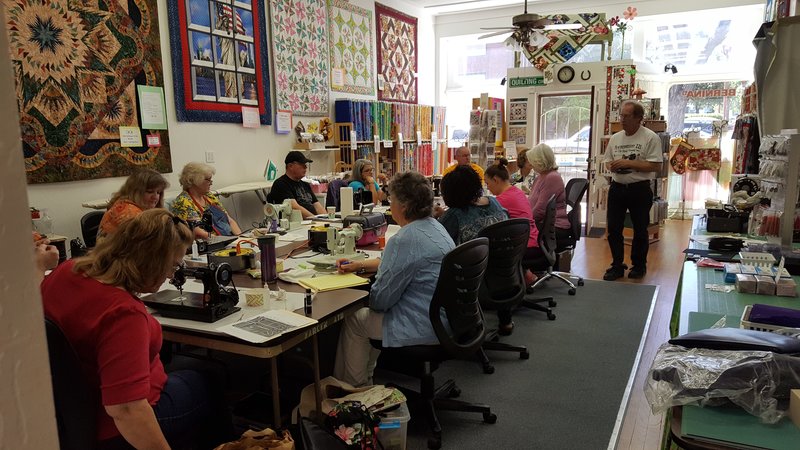 Singer Featherweight Maintenance 
Bring your featherweight and join Dave Trebotich from the "Twice Nice Sewing Machine Restoration" as he walks you through problem solving and how to service and maintain your featherweight Sewing Machine. In this 3 hour, hands-on class you will learn to inspect, adjust and lubricate your machine. You will learn how to handle thread jams and about all those amazing parts and attachments.
Contact the shops directly to book your space. Complete schedule of classes below. Thank you for supporting your local quilt shops.
Quild and Private Workshops can be booked by contacting Twice Nice directly. 925-628-5039
Book us to speak at your next meeting, we will discuss "The Perfect Portable - the Singer Featherweight and the history of Singer Sewing Machines." We bring examples of early Singer Sewing Machines, pictures, books and gadgets. A fun hands on talk that will have you cleaning out your basements and attics to find Grandma's little Singer.
What our customer are saying... 
"Enjoyed the one on one communication as well as group participation with questions being answered thoroughly so we novices could understand how our FW's function...and how to keep them running smoothly. Learned a great deal and found the class very informative."
October 20, 2018
Quail's Nest Quilt Company
14675 Mono Way
Sonora CA
209-536-4009
October 21, 2018

Color Me Quilts
37495 Niles Blvd
Fremont CA
510-494-9940
October 27, 2018
Ladybug's Quilts
1236 N. Main Street
Manteca CA
209-824-0485
www.ladybugsquilktsmanteca.com

October 28, 2018

Quilted Angel
200 G Street
Petaluma  CA
707-763-0945
November 3, 2018
In Between Stitches
2190 First Street
Livermore CA
925-371-7064
Nov 4, 2018
Always Quilting
4230 Olympic Ave
San Mateo CA
650-458-8580