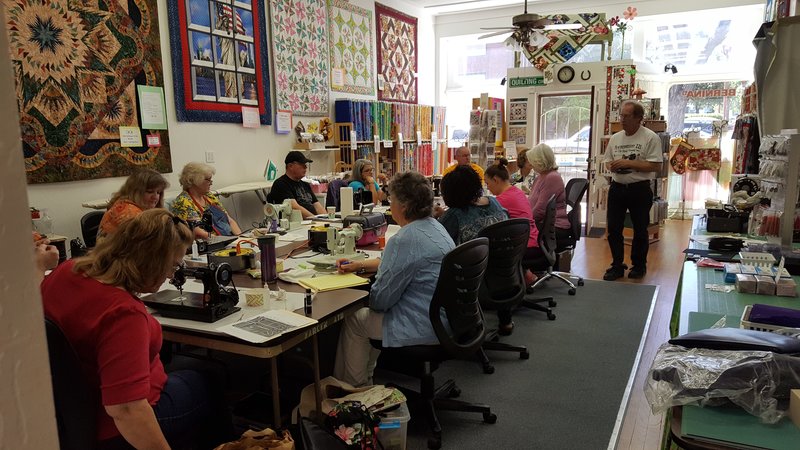 Singer Featherweight Maintenance Workshop
Bring your featherweight and join Dave Trebotich from the "Twice Nice Sewing Machine Restoration" as he walks you through problem solving and how to service and maintain your featherweight Sewing Machine. In this 3 hour, hands-on class you will learn to inspect, adjust and lubricate your machine. You will learn how to handle thread jams and about all those amazing parts and attachments.
Contact the shops directly to book your space. Complete schedule of classes below. Thank you for supporting your local quilt shops.
June 22, 2019

Quilter's Corner
9500 Micron Avenue
Sacramento CA
916-366-6136
June 29, 2019

Pieces of Love Quilt Shop
2216 - 5th Avenue
Oroville CA
530-990-0699
July 13, 2019
Quilts and Things 
16985 Monterey Street #136
Morgan Hill CA
408-776-8438
July 20, 2019

Fabric Garden Quilt Shop
2654 Marconi Avenue
Sacramento CA
916-483-2955
July 27, 2019
The Granary Quilt Shop
1326 S Mary Avenue
Sunnyvale CA 
408-735-9830
August 3, 2019
Broadway Quilts
20525 Broadway
Sonoma CA
707-938-7312
August 17, 2019

Wooden Gate Quilts
125 - F Railroad Avenue
Danville CA
925-837-8458
August 25, 2019
Hilly's Quilts
720 West 2nd Street
Antioch CA
925-978-4587
Oct 27, 2019

Wooden Gate Quilts
125 - F Railroad Avenue
Danville CA
925-837-8458
Guild and Private Workshops can be booked by contacting Twice Nice directly. 925-628-5039
****Previous Workshops****
San Francisco Quilt Guild
East Bay Heritage Quilters
Heart of California Quilters
Los Banos Quilters
What our customer are saying... 

".....interesting, and funny, presentation......."
"Had a great time learning today! Thank you for the personal attention."
."Enjoyed the one on one communication as well as group participation with questions being answered thoroughly so we novices could understand how our FW's function...and how to keep them running smoothly. Learned a great deal and found the class very informative."