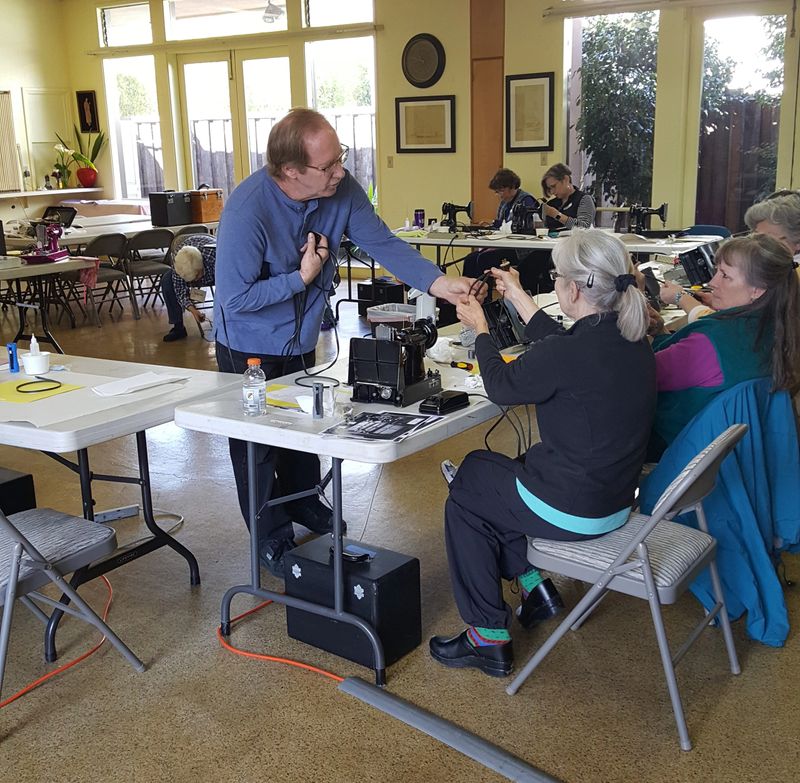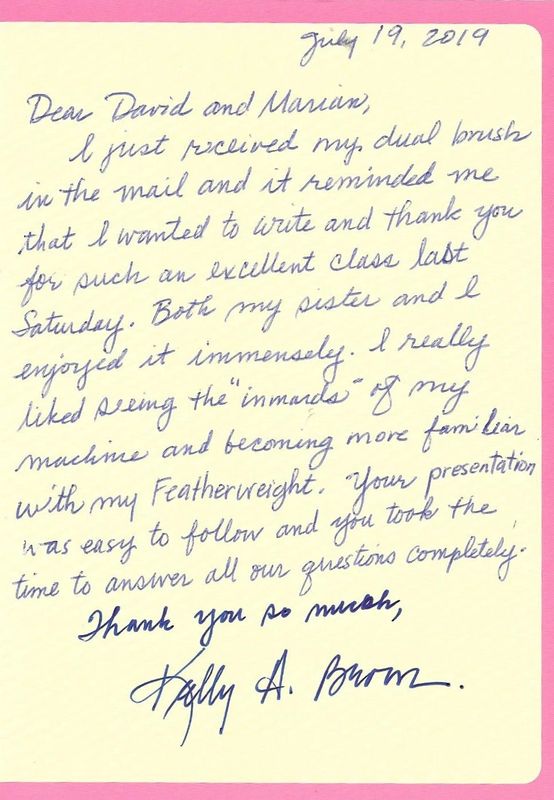 Singer Featherweight Maintenance Workshop

Bring your featherweight and join Dave Trebotich from the "Twice Nice Sewing Machine Restoration" as he walks you through problem solving and how to service and maintain your featherweight Sewing Machine. In this 3 hour, hands-on class you will learn to inspect, adjust and lubricate your machine. You will learn how to handle thread jams and about all those amazing parts and attachments.
Contact the shops directly to book your space. Complete schedule of classes below. Thank you for supporting your local quilt shops.
Oct 26, 2019

Always Quilting
4230 Olympic Ave
San Mateo CA 94403
650-458-8580
Oct 27, 2019

Wooden Gate Quilts
125 - F Railroad Avenue
Danville CA
925-837-8458
Nov 2, 2019
Not Just Quiltz
37831 Niles Blvd
Fremont CA 94536
510-797-6579
Nov 3, 2019

Quilter's Corner
9500 Micron Avenue
Sacramento CA
916-366-6136
Nov 17, 2019
Ladybug's Quilts
1236 N Main Street
Manteca CA
209-824-0485
January 11, 2020

Quilts and Things 
16985 Monterey Street #136
Morgan Hill CA
408-776-8438
January 25, 2020
Fabric Garden
2654 Marconi Avenue Suite 155
Sacramento CA
916-483-2955
Feb 2, 2020
Quilter's Corner
9500 Micron Avenue
Sacramento CA
916-366-6136
Feb 29, 2020
The Granary Quilt Shop
1326 S Mary Avenue
Sunnyvale CA
408-735-9830
Guild and Private Workshops can be booked by contacting Twice Nice directly. 925-628-5039
****Previous Workshops****
San Francisco Quilt Guild
East Bay Heritage Quilters
Heart of California Quilters
Los Banos Quilters
What our customer are saying... 

".....interesting, and funny, presentation......."
"Had a great time learning today! Thank you for the personal attention."
."Enjoyed the one on one communication as well as group participation with questions being answered thoroughly so we novices could understand how our FW's function...and how to keep them running smoothly. Learned a great deal and found the class very informative."